Bleona Qereti, more commonly known as 'Bleona,'  has been called 'The Madonna of Albania,' and is known for her relentless confidence and provocative performances. She's released eight albums, self-reportedly sold 1.5 million albums, won multiple music awards, appeared on the cover of over 35 magazines and performed for millions of fans around the world.
What really sets the rising international pop star apart in the entertainment world is her economic model: Bleona is an independent, self-funded artist.
During a recent video chat interview, I bore firsthand witness to Bleona's notorious enthusiasm as she told me how self-funding has been crucial for defining her career.
"Using my funds instead of a label's funds, makes me my own boss," she said. "I have complete control on the creativity, style of music, style of video, what I want to wear, and, ultimately, how I want to introduce myself to the global market."
Bleona pointed out that for other emerging entertainers, there is a risk when they are signed with a label.
"Every signed artist risks to be presented to his fans as something he is really not or to be shelved because the label just happened to have other priorities, but in my case I am my own priority," she said. "And at the end of the day, I believe in me and I am spending my own money on me, and that makes it seems safer for any other investor that is thinking to be your partner."
While Bleona said she hopes that her proven tracks of success will bring her investors, she is determined that one aspect of her career will always remain untouched: "My brand, my rules," she said.
In Miami, Drake called Rihanna "the real queen" when he joined her onstage for their No. 1 Billboard Hot 100 hit "Work." But in Toronto tonight she was "the greatest woman I've ever known in my entire life."
Dressed in a "Views" hoodie, Drake came out partway through their smash collab to take up his vocal part and engage in some flirtatious twerking. Toronto's native son, whose new album Views From The 6 is scheduled to drop April 29, was then left alone onstage to perform new track "One Dance," then 2015's "Jumpman."
Rihanna's 'Work' Rules Dance Club Songs Chart 
When he was done, he said, "One more time, if you would do me the favor and make some noise for the greatest woman I've ever known in my entire life. She goes by the name of Rihanna…I go by the name of Drake and If there's one thing I care about it's everybody in this motherf---ing building…Views From The 6, April 29 -- I put my heart in this shit for you."
This was Rihanna's second of two shows at the Air Canada Centre, as part of her Anti World Tour, which began March 12 in Florida and ends Aug. 21 in England. Just a few days after tour kick-off, Drake was her surprise guest in Miami.
Drop everything: Michelle Obama, wearer of all things stylish and enviable, has a new favorite color. 
Whether intentionally or not, the first lady has a habit of picking a certain pattern or color and riding its wave for some time. Royal blue had its turn, and most recently,florals took the front seat. Now, it appears she's going back to an old favorite — and we're green with envy. 
You see, it all started at the Easter Egg Roll in Washington, D.C. on March 28. FLOTUS donned a grassy green top to kick off the festivities with the dad jeans-wearing president.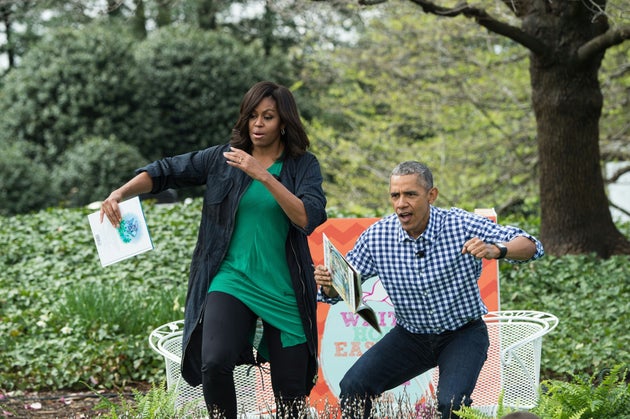 Shortly thereafter, on Tuesday, the first lady was spotted in green yet again, this time using her green thumb to plant fruits and vegetables in the White House kitchen garden. Perhaps the color of the super on-trend 3.1 Phillip Lim silk bomber, which retails for $850, was a mere coincidence. Perhaps.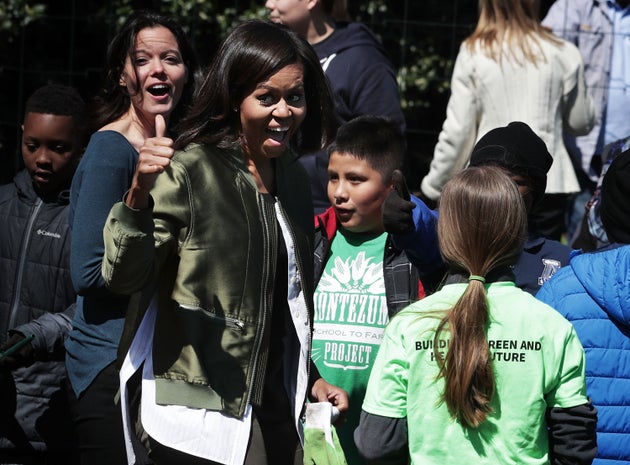 Things start to take a real turn for the "is-this-her-new-favorite-color-or-what?" the next day on Wednesday, when she was spotted yet again in a mossy shade of green to celebrate Nowruz, the Persian New Year, at the White House.  
Roc Nation has launched a legal counter-attack on Rita Ora in New York — but her lawyer says Jay Z has already agreed to snuff the "R.I.P." singer's five-album contract.
"I think we're just going to resolve this," Ora's lawyer Howard King told the Daily News Monday.
He said Jay Z called Ora personally back in December when she filed her original lawsuit in Los Angeles. Her complaint asked the court to void the Roc Nation contract she signed in 2008 when she was 18 years old.
RITA ORA FILES LAWSUIT AGAINST JAY Z'S RECORD LABEL, ROC NATION
"He said he's happy to let her go. He called her the day we filed and graciously said she didn't need to file," King told The News.
"I'm paraphrasing, but he said, 'If you want off the label, we'll let you go,'" King said.
The lawyer said he believed Roc Nation's new counter-lawsuit was filed "reluctantly" to meet a court deadline, and he hoped to reach a settlement before a hearing set for April 19 in Los Angeles.
MAN CHARGED WITH BURGLARY AFTER $285G RAID IN RITA ORA'S LONDON HOME
"Of course there could always be a fly in the ointment," he said.
In its Friday filing in New York, Roc Nation sued Ora, 25, for breach of contract and claimed it's suffered millions of dollars in damages.
The company said Ora agreed to five albums under her 2008 contract but only delivered one.
"Roc Nation's marketing and recording costs, to date, for Ms. Ora's still incomplete second album are not less than $2,353,500," the lawsuit states.
The filing claims Ora's contract expressly provided for the application of New York law in case of dispute, so Roc Nation filed in Manhattan Supreme Court even though Ora filed in Los Angeles.
It's no secret why Ora chose to file in California. The state where she now lives has a famous "seven-year rule" that limits enforceability on certain exclusive personal service contracts to seven years.
In her filing, Ora claimed she was "orphaned" by Roc Nation when the company turned its focus to sports management and other endeavors.
"When Rita signed, Roc Nation and its senior executives were very involved with her as an artist," her complaint states. "As Roc Nation's interests diversified, there were fewer resources available and the company suffered a revolving door of executives. Rita's remaining supporters at the label left or moved on to other activities, to the point where she no longer had a relationship with anyone at the company."
Ora claimed she was left to pay for her own promotional activities and was "caught in a political quagmire of dysfunction."
The lawyer for Roc Nation did not immediately respond to a request for comment. With Barbara Ross